One more year has gone. One can term it as the disaster year. The year of catastrophes, protests, financial setbacks, agony etc. The world sits back and ponders over the gone days. These 45 pictures of the year 2011 have etched a mark in everybody's mind. Take a look. (courtesy: : http://www.buzzfeed.com)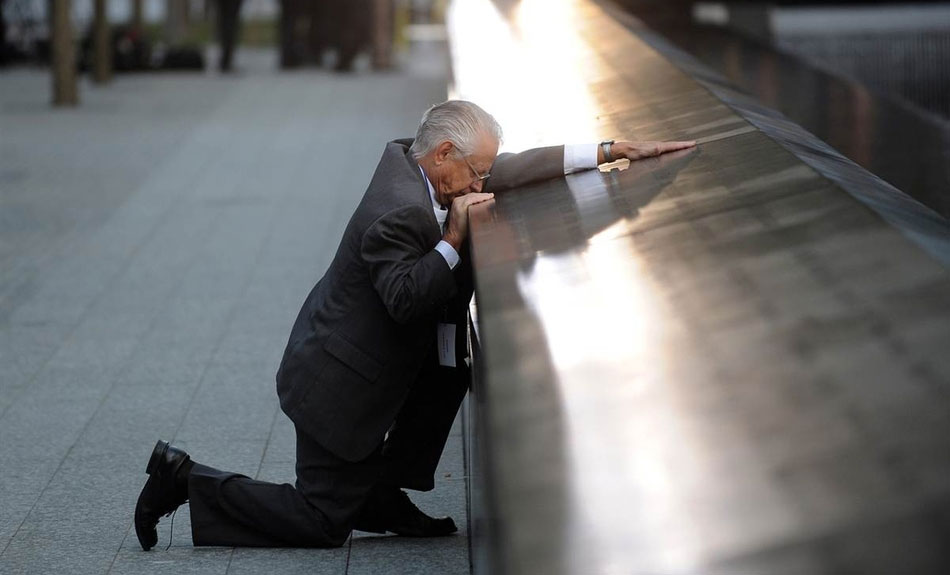 Robert Peraza, who lost his son Robert David Peraza in 9/11, pauses at his son's name at the North Pool of the 9/11 Memorial. (Getty Images / Justin Lane)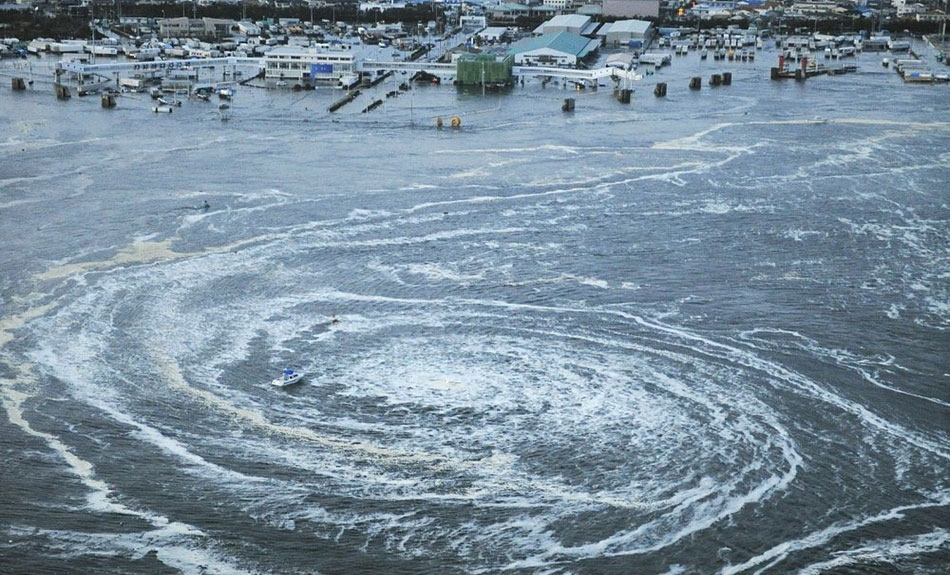 A whirpool forms off the Japanese coast after the tsunami on March 11.
(Reuters / Kyodo )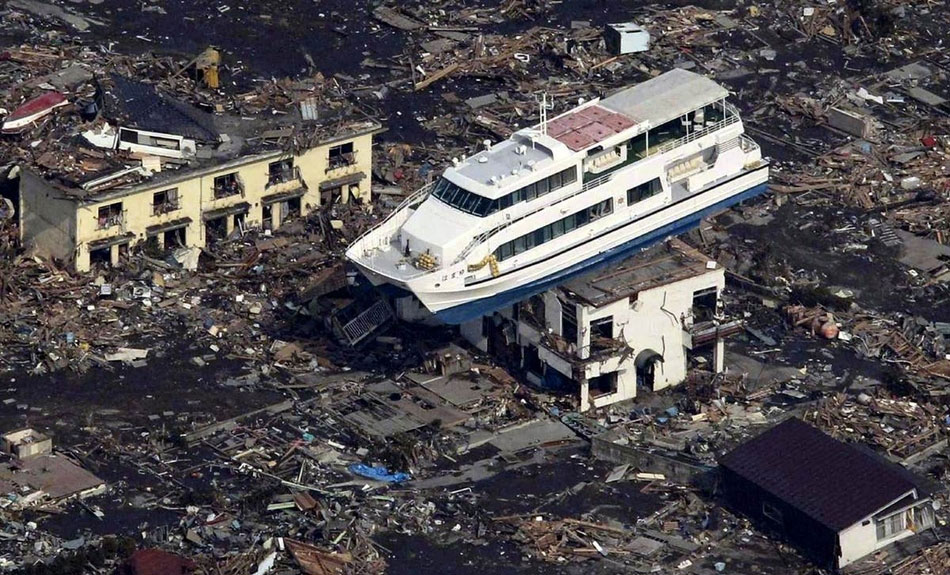 This sightseeing boat, Hama Yuri, was pulled 1300 feet from the coast and somehow balanced itself on a two story house during the tsunami in Japan.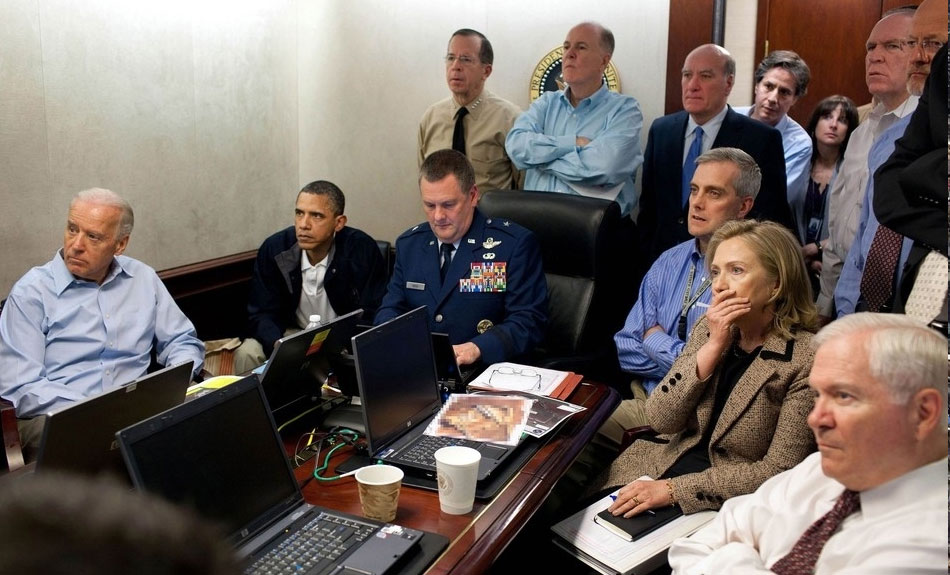 Members of the national security team receive an update on the mission against Osama bin Laden in the Situation Room of the White House on May 1.
(Reuters / HANDOUT)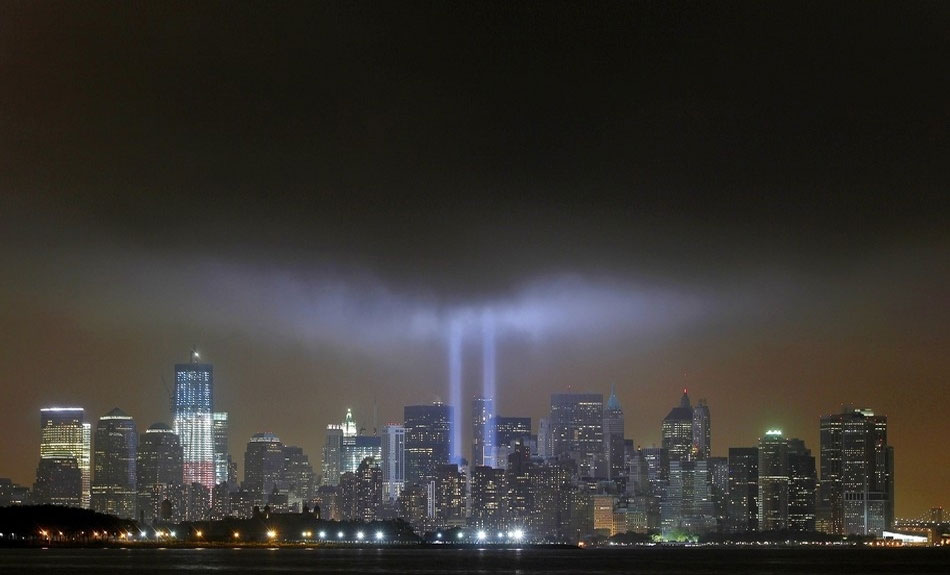 Two lights from the former site of the World Trade Centers shine for the 10th anniversary of 9/11.(Reuters / GARY HERSHORN)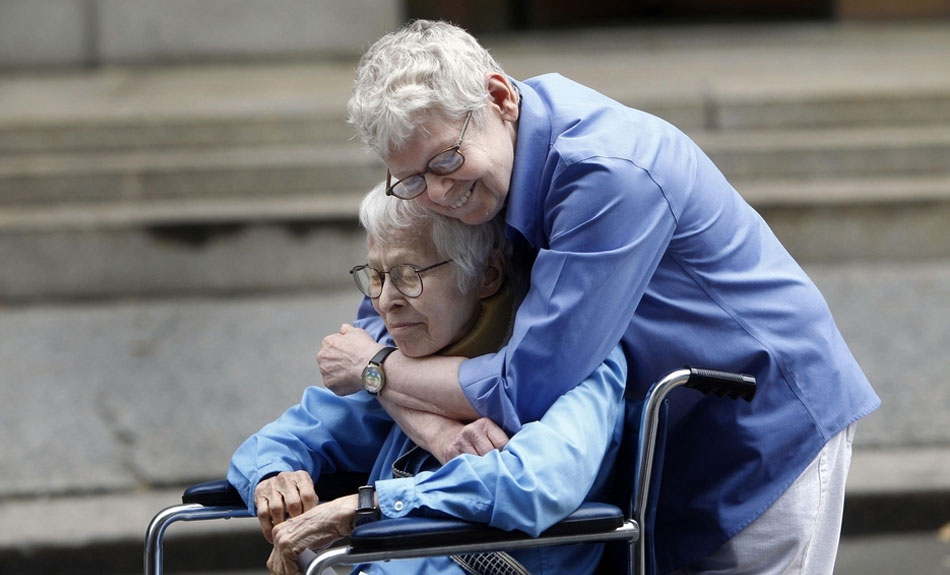 Phyllis Siegel, 76, left, and Connie Kopelov, 84, both of New York, embrace after becoming the first same-sex couple to get married at the Manhattan City Clerk's office.
(Getty Images / STAN HONDA)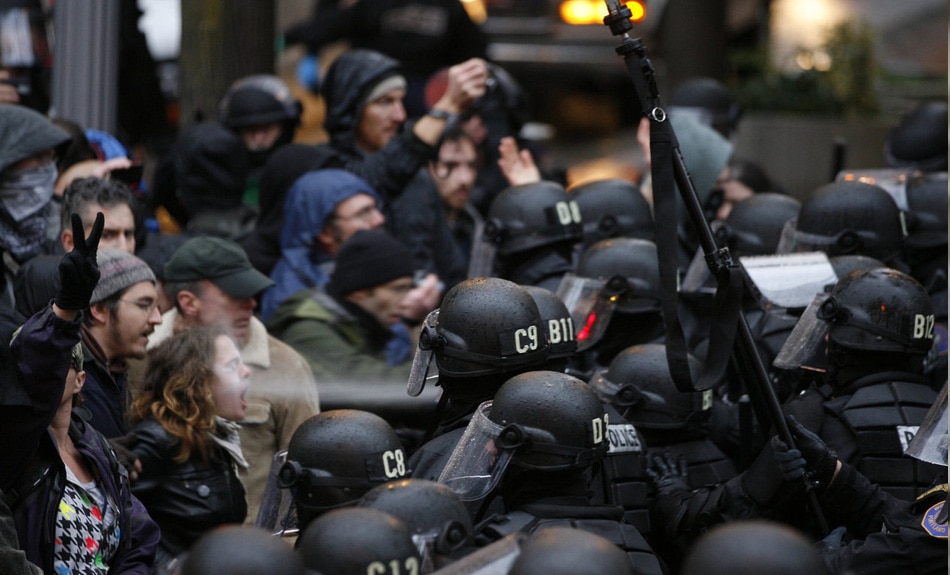 A protester gets sprayed in the face with pepper spray at an Occupy Portland protest. (Randy L. Rasmussen/The Oregonian)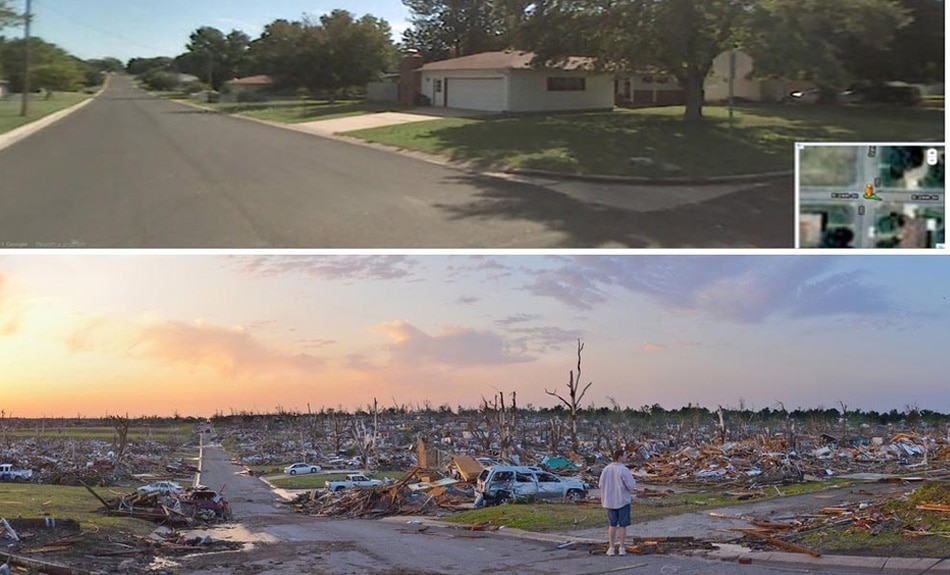 A before and after shot of Joplin, Missouri after a massive tornado on May 22.(zeitlosimagery)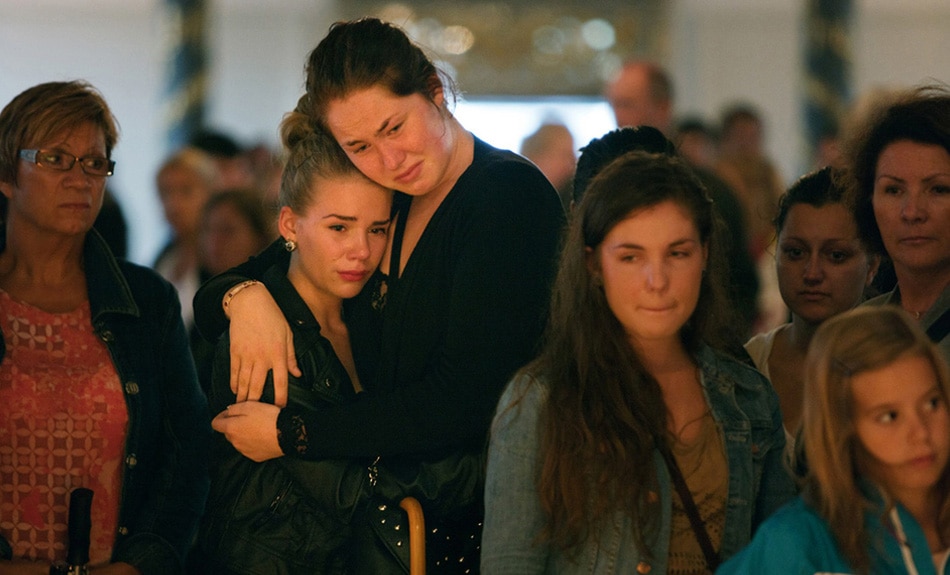 Friends and loved ones gather at the Oslo cathedral to mourn 93 victims killed in twin terror attacks from a bombing in downtown Oslo and a mass shooting on Utoya island on July 24. (Getty Images / Paula Bronstein)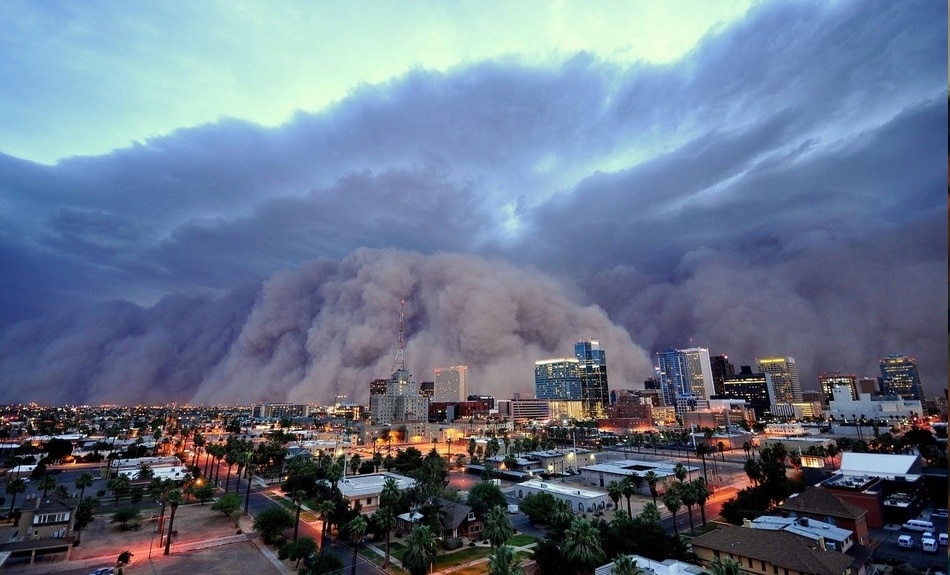 A monstrous dust storm (Haboob) roared through Phoenix, Arizona in July. (danbryant.com)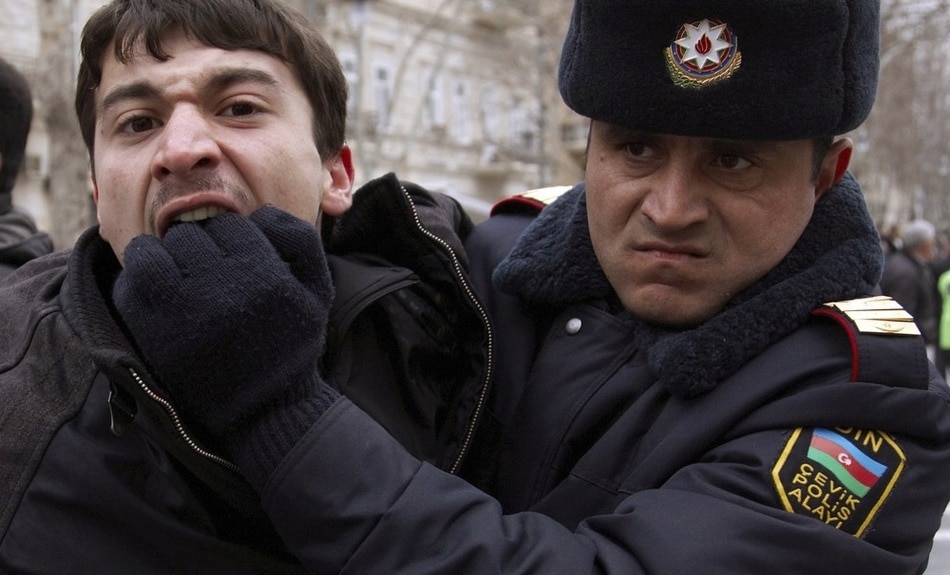 A policeman detains an opposition activist in Baku on March 12. Azerbaijan police detained more than 30 activists of the opposition Musavat Party when its members took to the street of Baku to protest against the ruling elite following a similar rally a day before. (Reuters)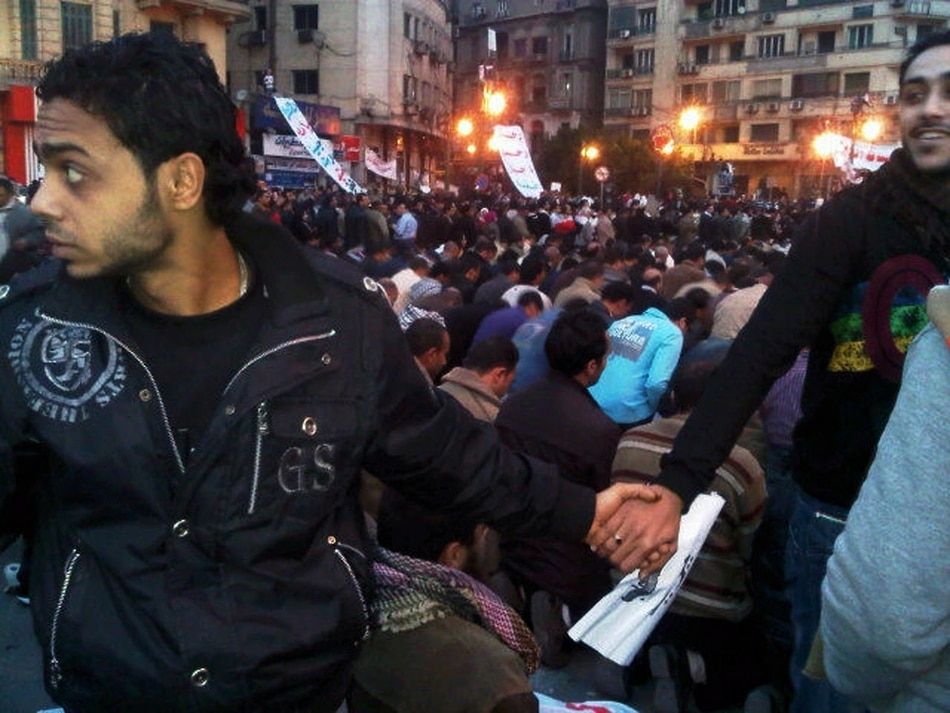 Christians protect Muslims during prayer in Cairo, Egypt.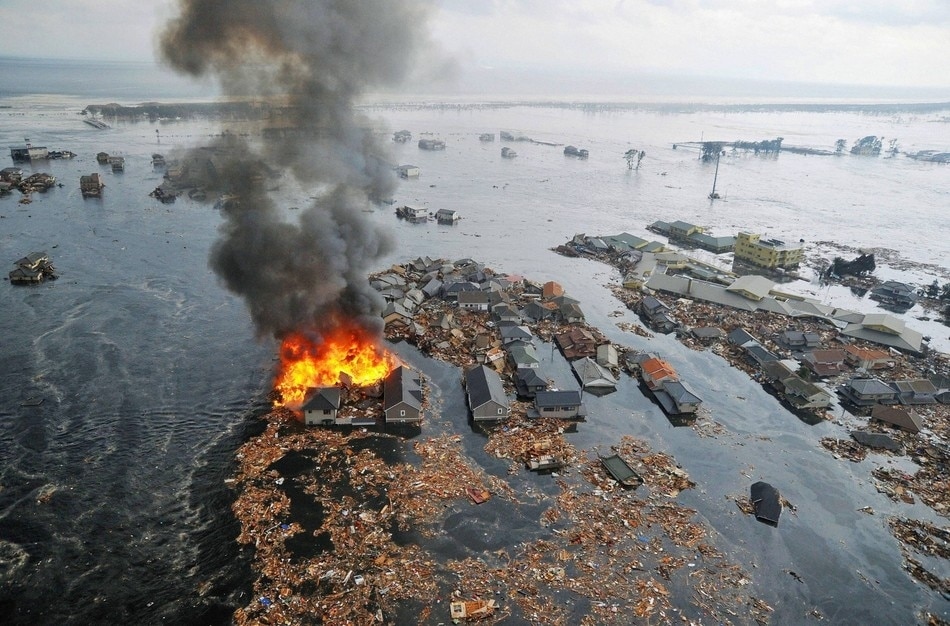 An aerial shot of the damage immediately following the Japanese tsunami.
(Reuters / KYODO)
A girl in isolation for radiation screening looks at her dog through a window in Nihonmatsu, Japan on March 14. (Reuters / Yuriko Nakao)
A man sits in front of a destroyed apartment building following the Joplin, Missouri tornado. (Reuters)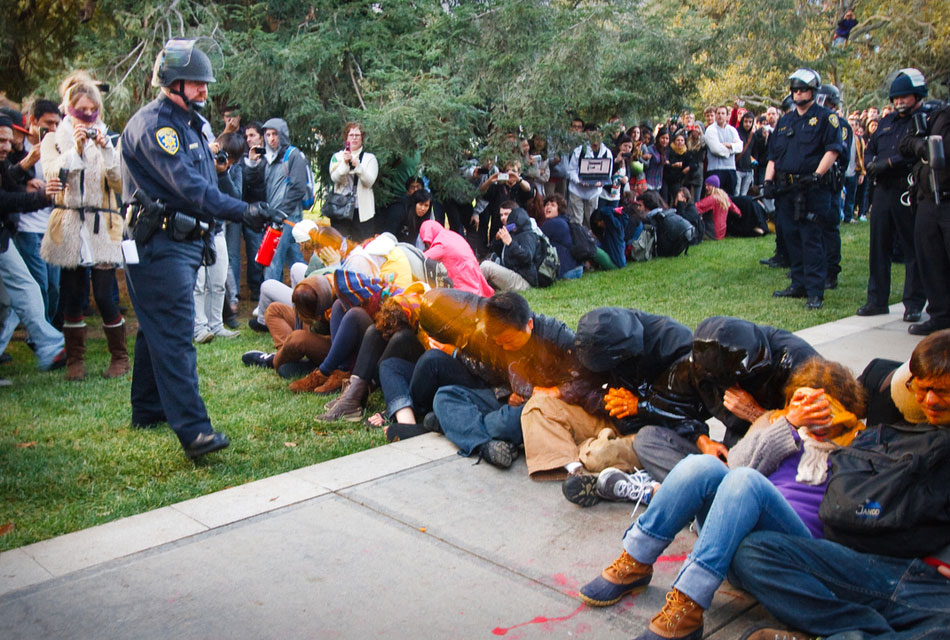 A University of California Davis police officer pepper-sprays students during their sit-in at an 'Occupy UCD' demonstration in Davis, California. (Jasna Hodzic)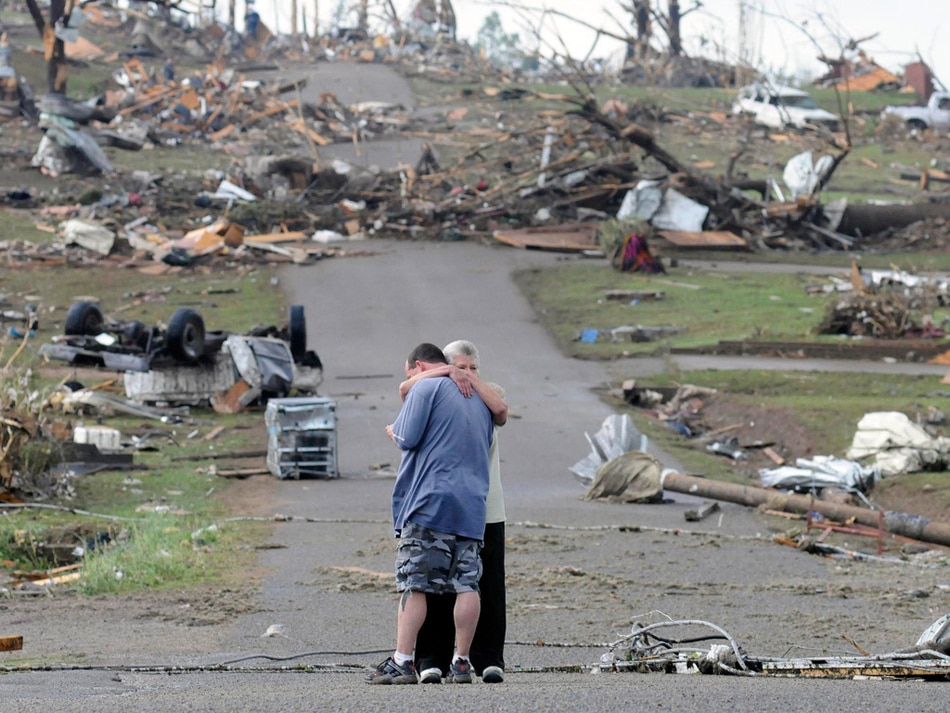 A mother comforts her son in Concord, Alabama, near his house which was completely destroyed by a tornado in April. (AP / Jeff Roberts)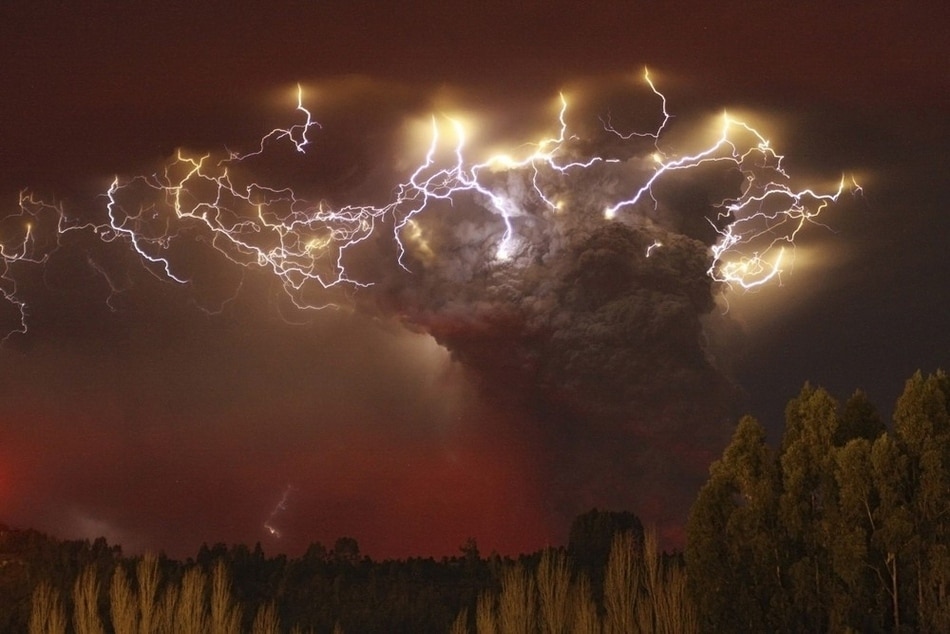 Chile's Puyehue volcano erupts, causing air traffic cancellations across South America, New Zealand, Australia and forcing over 3,000 people to evacuate. (Reuters)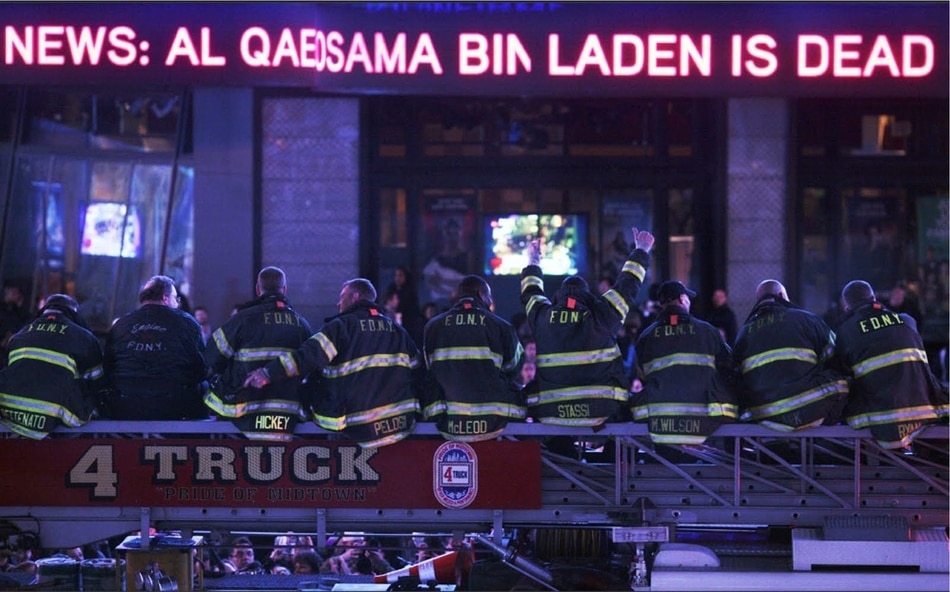 Firefighters of Ladder Company 4 — which lost seven men on 9/11 — perched together on their aerial ladder, watching a news bulletin in Times Square declaring that Osama bin Laden was dead on May 2.
Source: lens.blogs.nytimes.com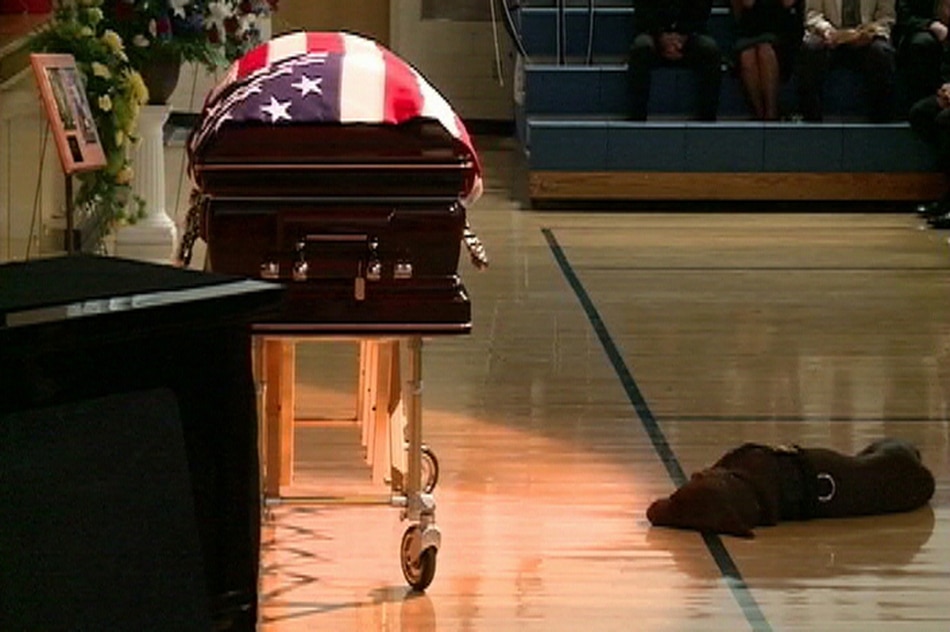 Slain Navy SEAL Jon Tumilson's dog 'Hawkeye' lies next to his casket during funeral services in Rockford, Iowa. Tumilson was one of 30 American soldiers killed in Afghanistan on August 6 when their helicopter was shot down during a mission to help fellow troops who had come under fire.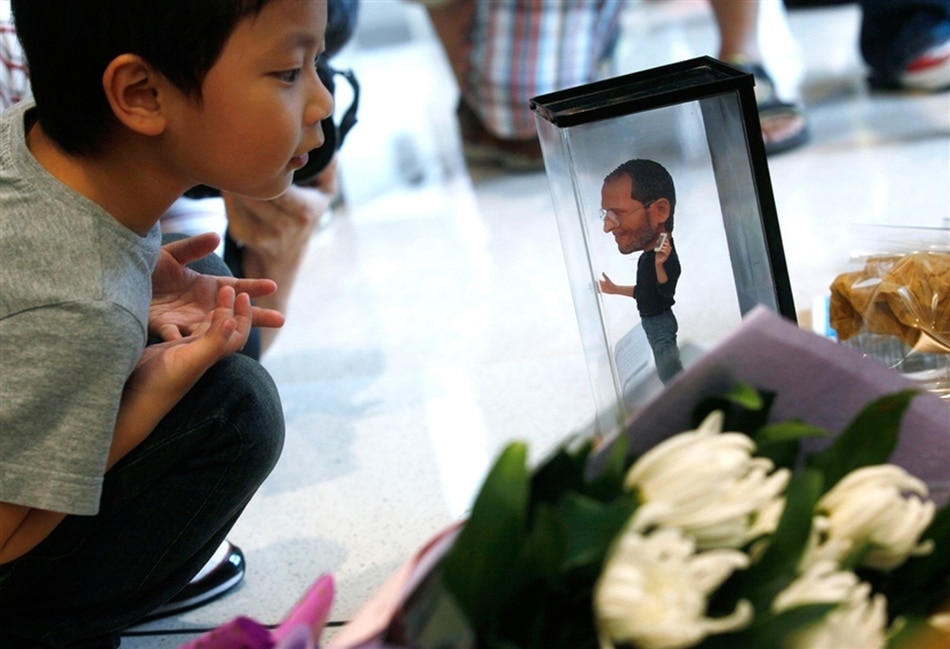 A boy looks at a figure of Steve Jobs next to flowers laid in his tribute at an Apple store in Hong Kong, China.
(AP / Kin Cheung)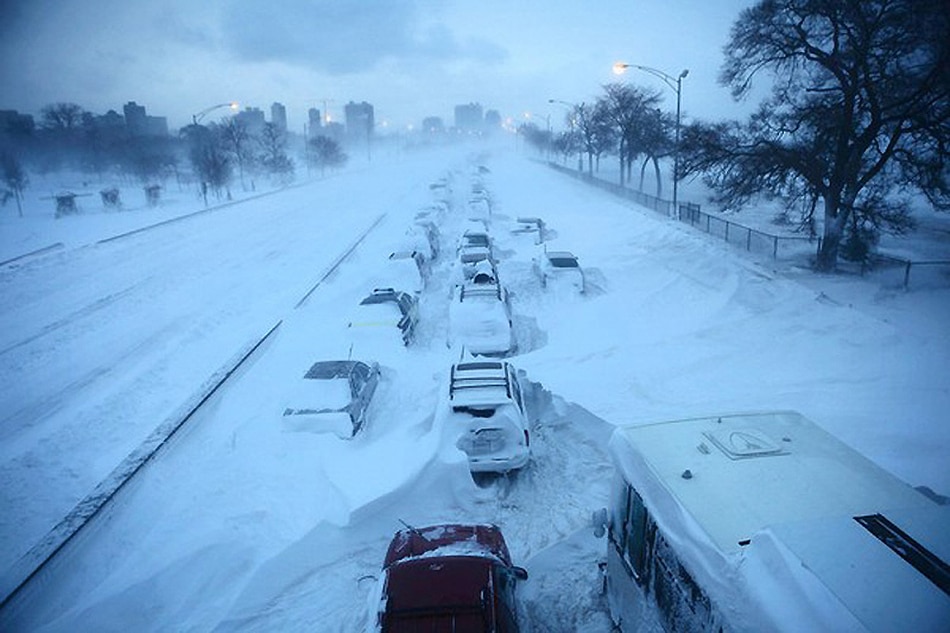 Cars are abandoned on Chicago's Lake Shore Drive during the 'Snowpocalypse' in February. Source: chicagotribune.com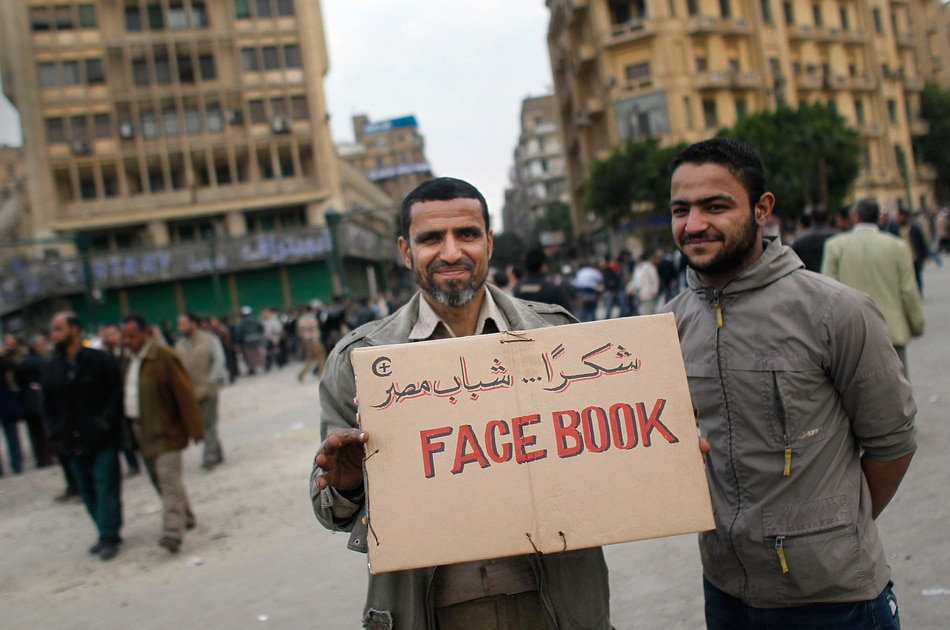 Facebook played an extremely important role in the uprisings throughout the Middle East.
Source: theatlanticwire.com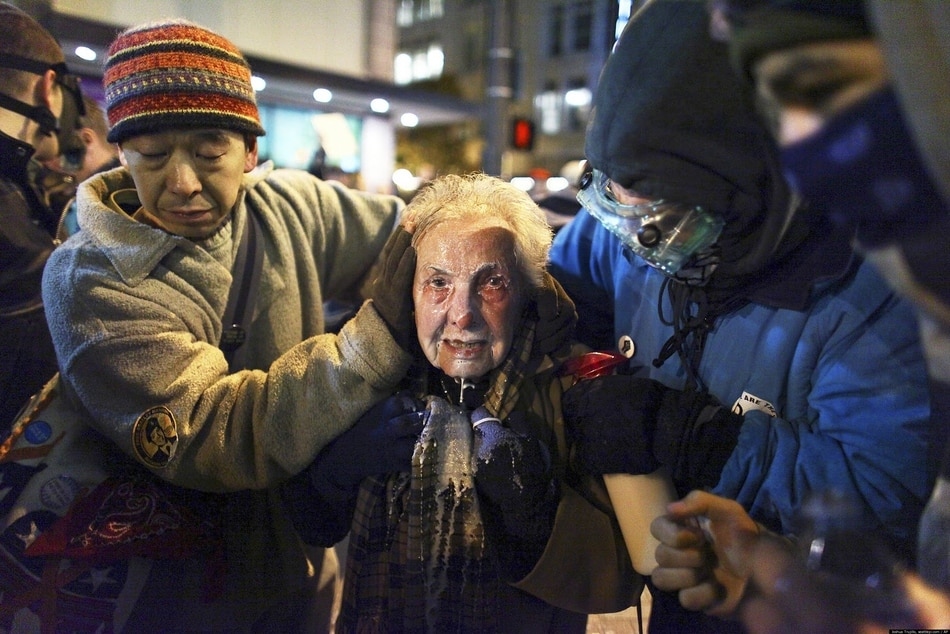 84-year-old Dorli Rainey was pepper sprayed during a peaceful march in Seattle, Washington. She would have been thrown to the ground and trampled, but luckily a fellow protester and Iraq vet was there to save her. (Joshua Trujillo / seattlepi.com)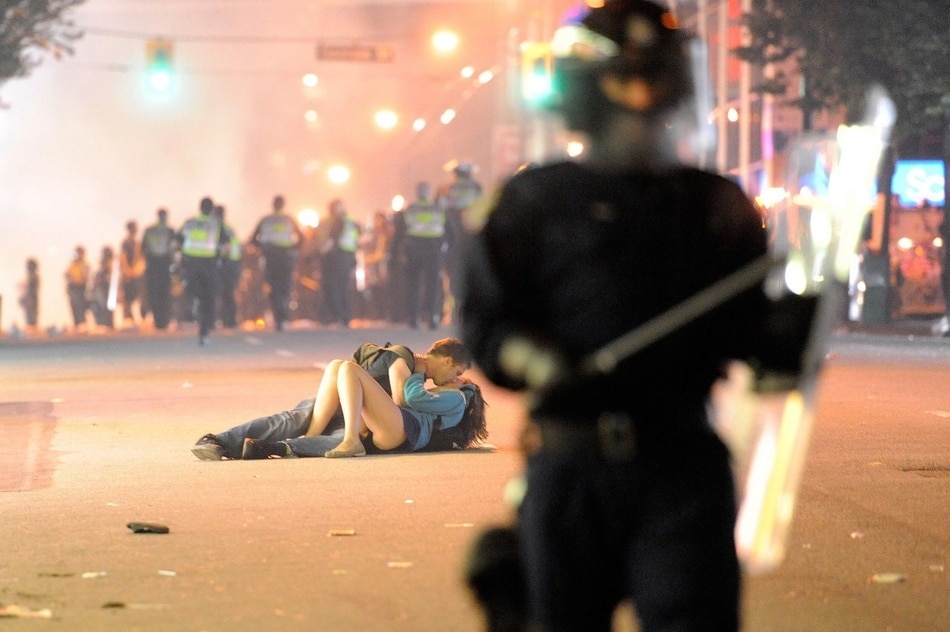 Australian Scott Jones kisses his Canadian girlfriend Alex Thomas after she was knocked to the ground by a police officer's riot shield in Vancouver, British Columbia. Canadians rioted after the Vancouver Canucks lost the Stanley Cup to the Boston Bruins. (Getty Images / Rich Lam)
Hurricane Irene approaches the east coast.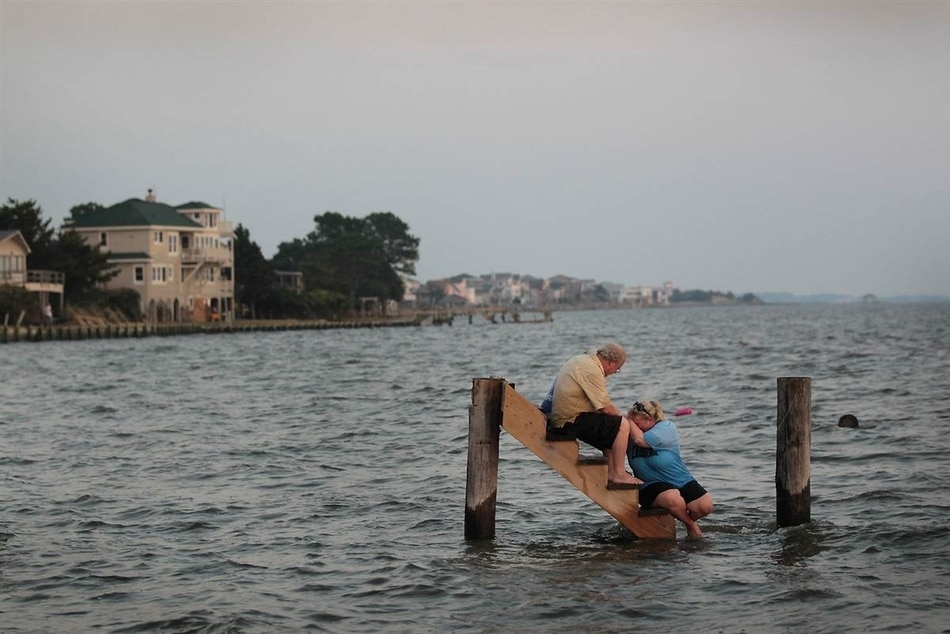 Billy Stinson comforts his daughter Erin Stinson as they sit on the steps where their cottage once stood on August 28 in Nags Head, N.C. The cottage, built in 1903 and destroyed by Hurricane Irene, was one of the first vacation cottages built on Albemarle Sound in Nags Head.
(Getty Images / Scott Olson)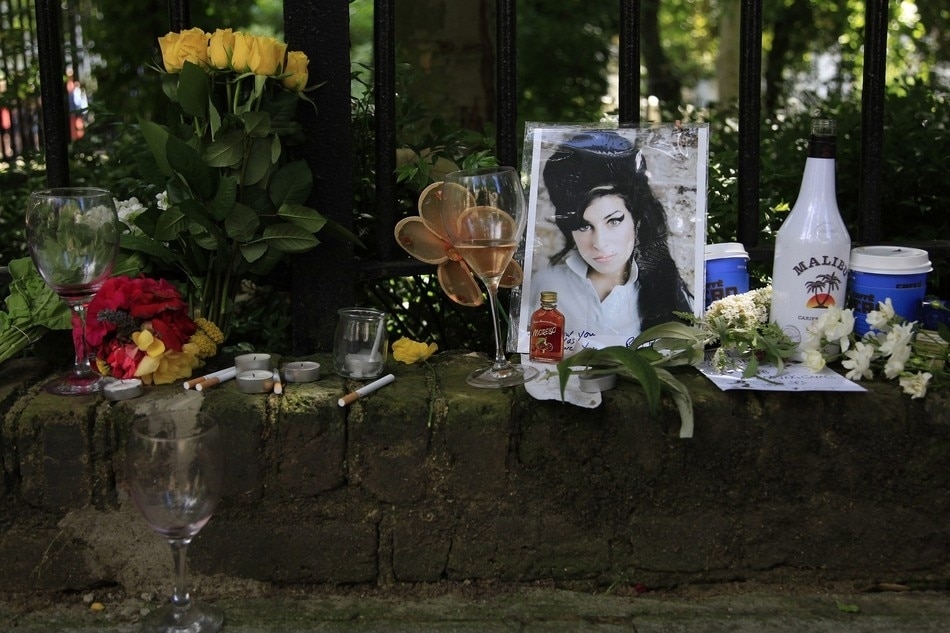 Flowers and tributes are seen outside the home of Amy Winehouse in London on July 24. (Reuters / STEFAN WERMUTH)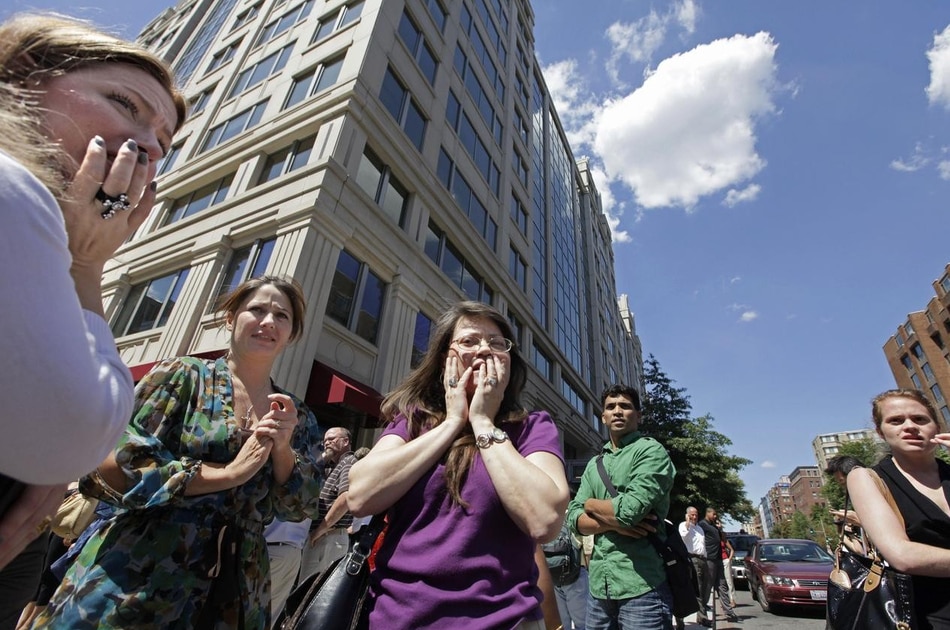 Office workers gather on the sidewalk in downtown Washington, D.C., moments after a 5.9-magnitude earthquake shook the nation's capital. The earthquake was centered northwest of Richmond, Va., but could be felt from North Carolina to Massachusetts.
(AP / J. Scott Applewhite)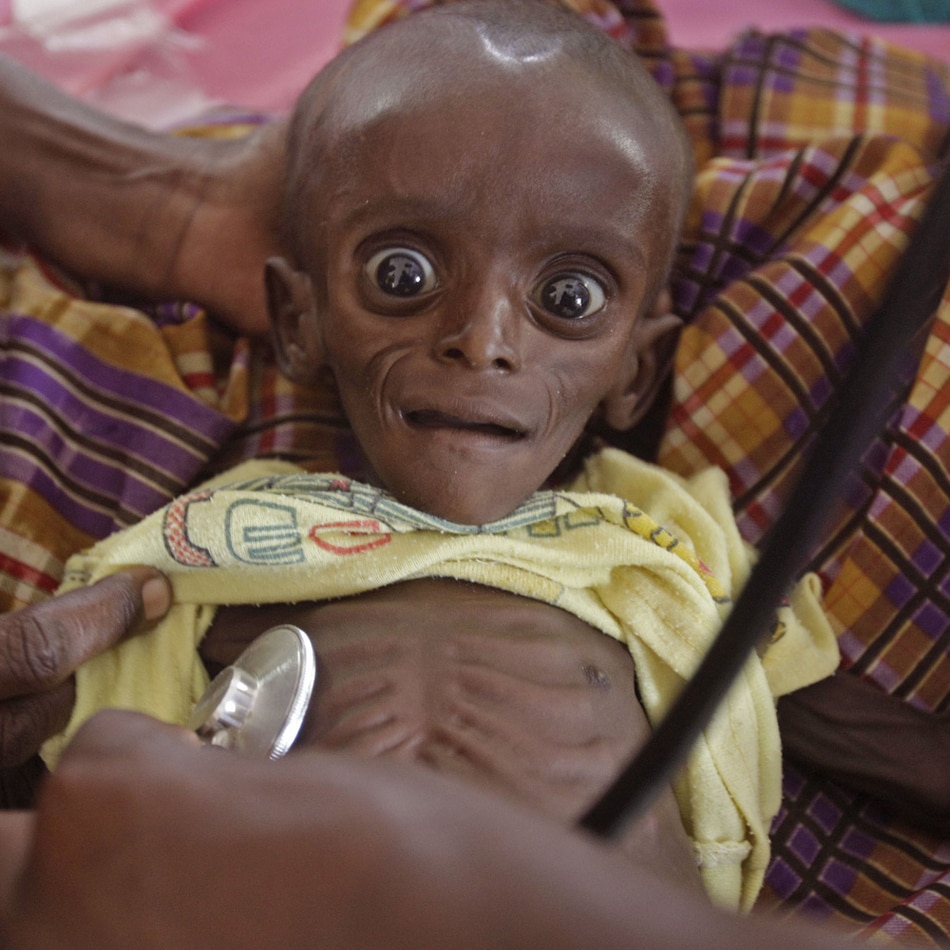 Mihag Gedi Farah, a seven-month-old child, is held by his mother in a field hospital of the International Rescue Committee in the town of Dadaab, Kenya. The baby has since made a full recovery. (AP / Schalk Van Zuydam)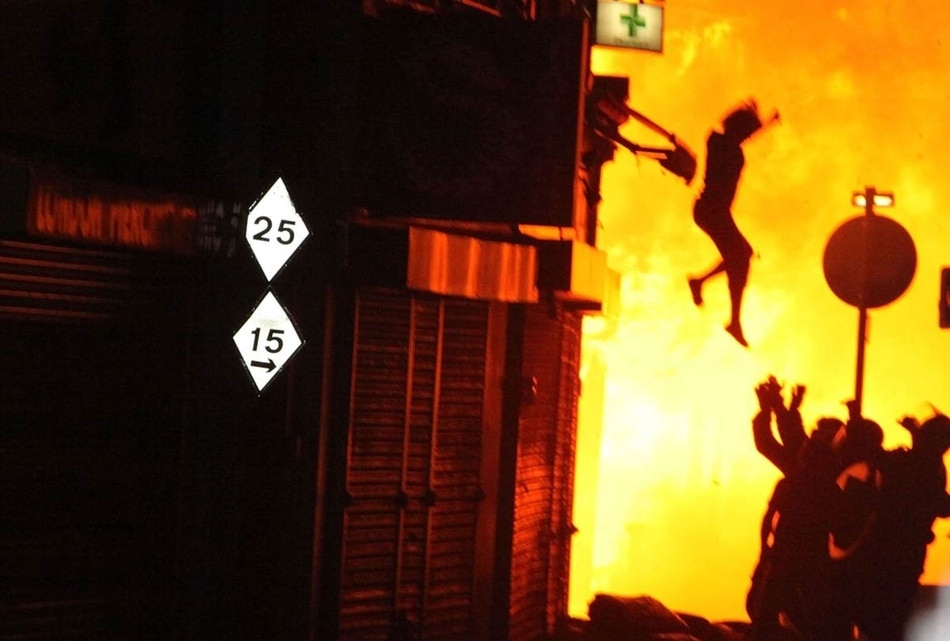 A woman jumps from a burning building during the London riots in August. (Amy Weston / WENN.com)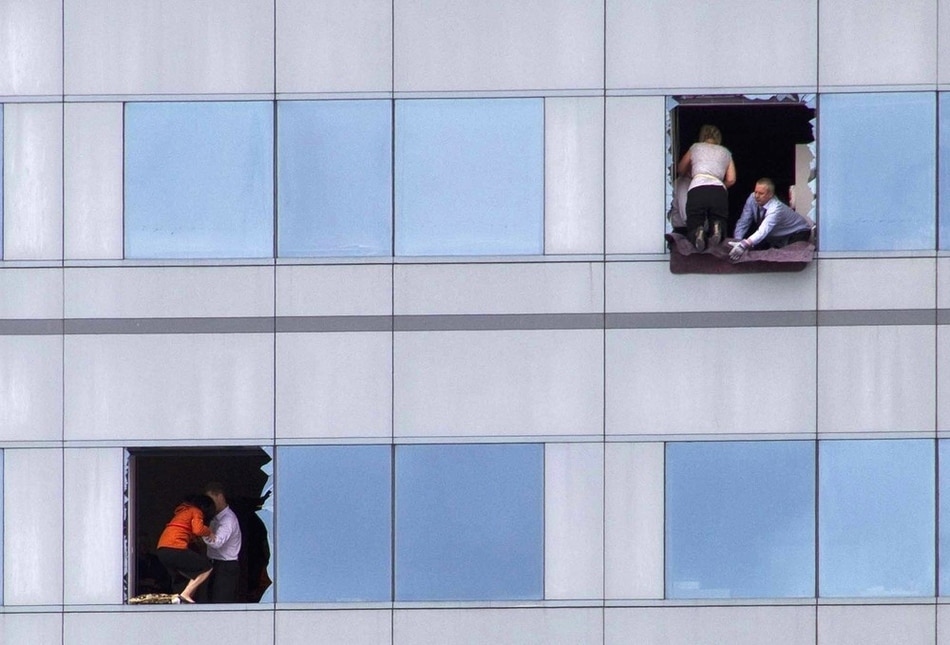 Office workers look for a way out of a high rise building in central Christchurch, New Zeland on February 22. A strong earthquake killed at least 180 people.
(Reuters / Simon Baker)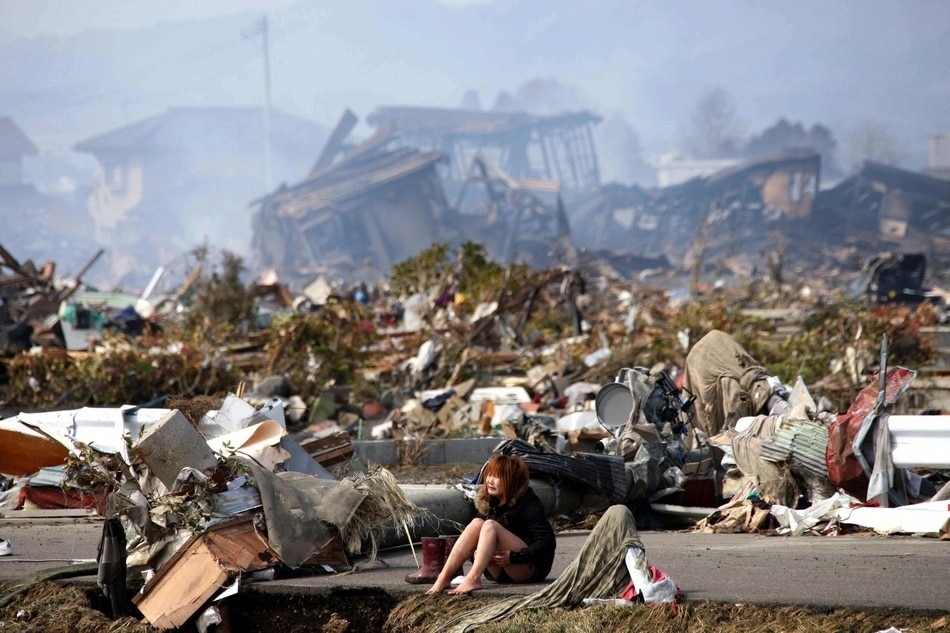 A woman cries while sitting on a road amid the destroyed city of Natori, Miyagi Prefecture in northern Japan after the massive earthquake and tsunami. (Reuters / ASAHI SHIMBUN)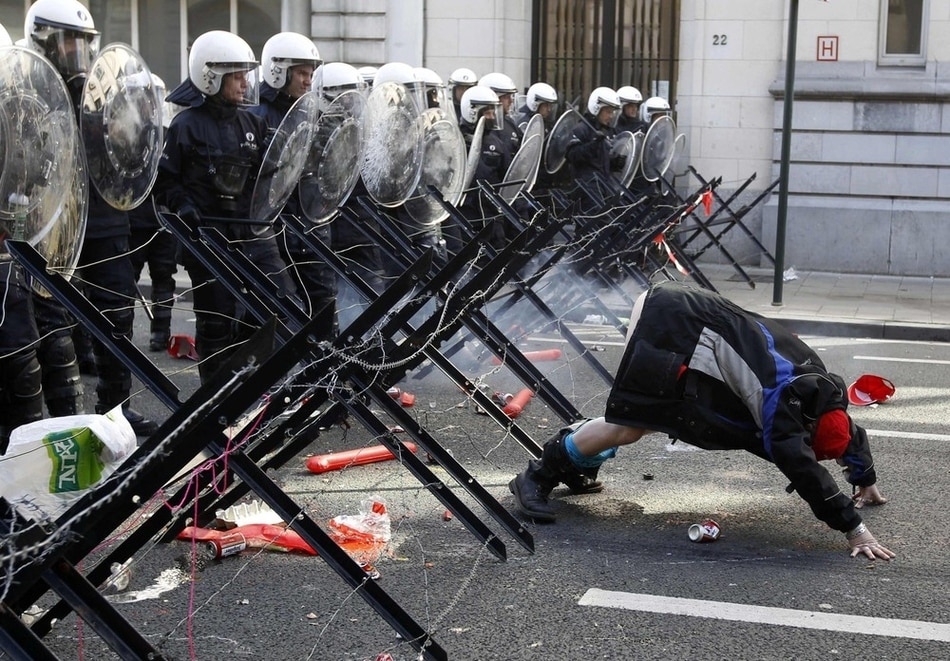 A demonstrator shows his bottom to riot police during a protest by European workers and trade union representatives to demand better job protection in the European Union countries in Brussels on March 24.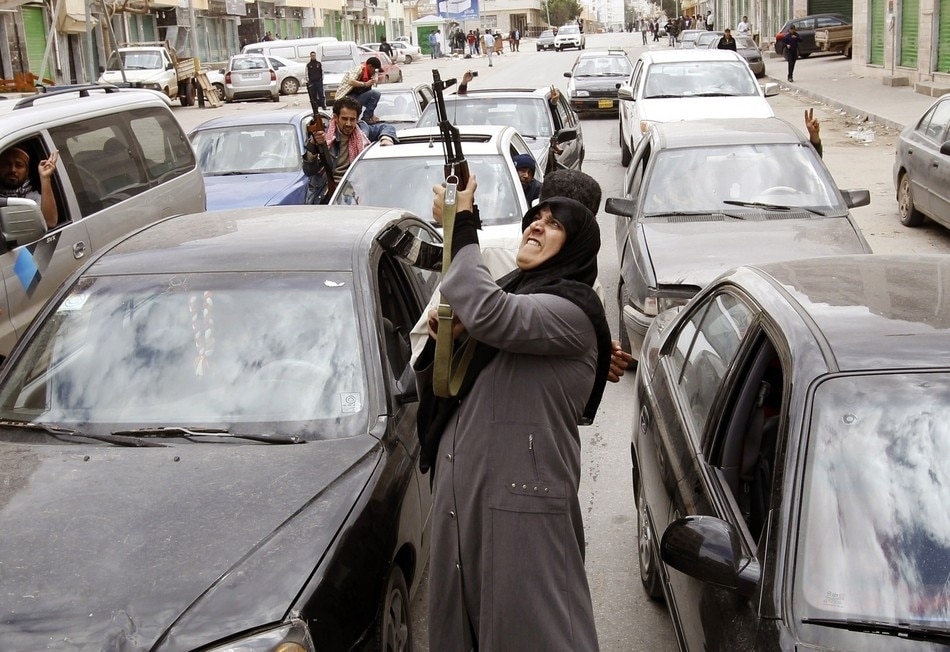 A woman rebel fighter supporter fires an AK-47 rifle as she reacts to the news of the withdrawal of Libyan leader Muammar Gaddafi's forces from Benghazi on March 19. (Reuters / GORAN TOMASEVIC)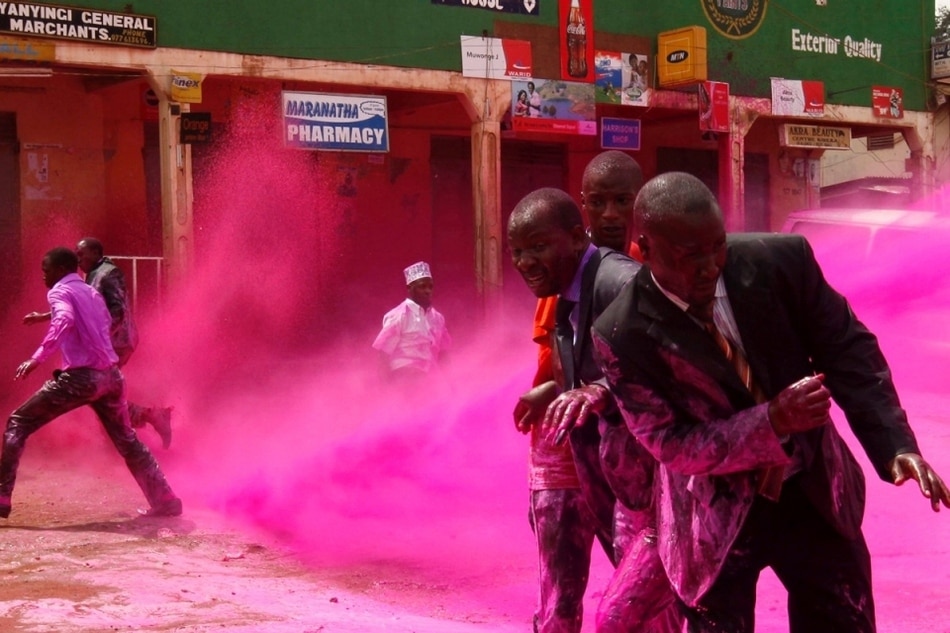 Police spray Ugandan opposition party leaders with colored water during demonstrations in the capital Kampala on May 10.
(Reuters / James Akena)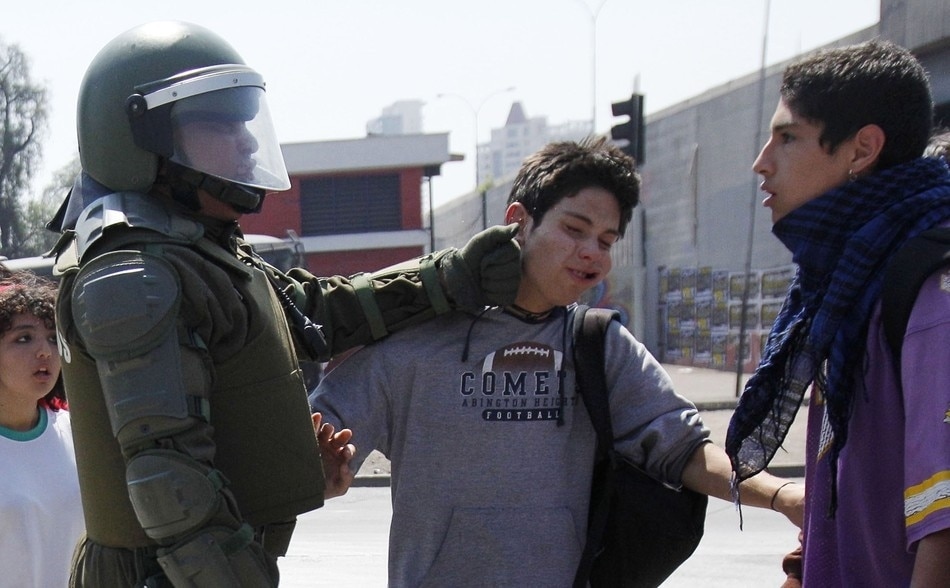 A student is punched in the face by a police officer in Chile. Students in Chile are demanding a new framework for education.
(Reuters / VICTOR RUIZ CABALLERO)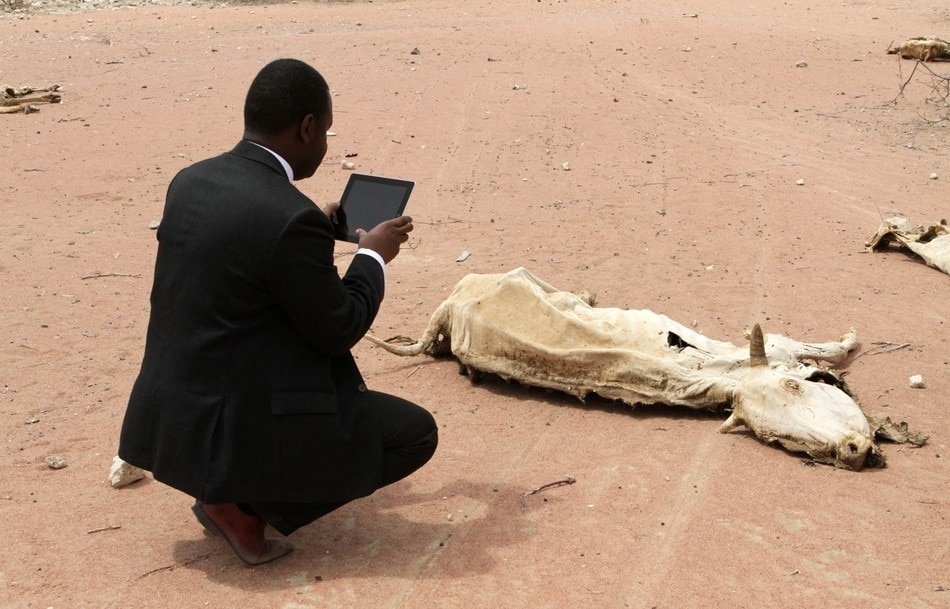 An aid worker using an iPad captures an image of a dead cow's decomposing carcass in Wajir near the Kenya-Somalia border on July 23.
(Reuters / STRINGER)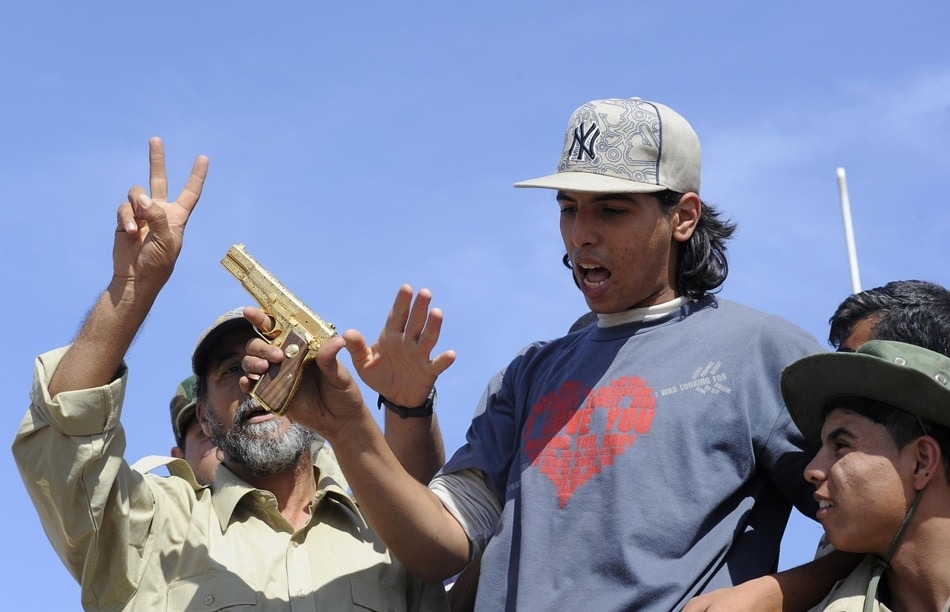 A Libyan rebel is pictured with Gadhafi's golden gun.
(Getty Images / Philippe Desmazes)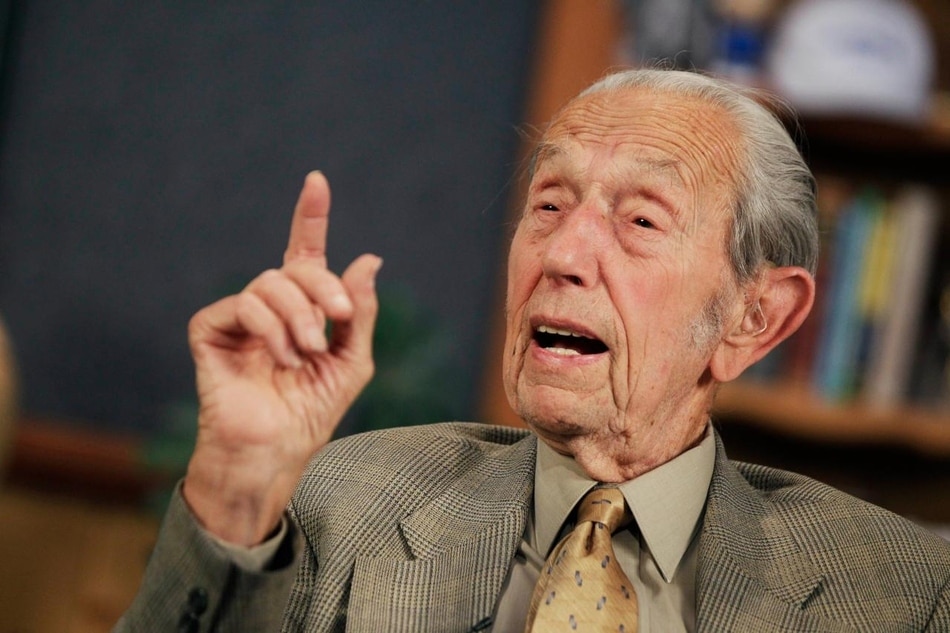 Harold Camping speaks about the end of the world. The world was supposed to end on May 22 of this year.
(AP / Marcio Jose Sanchez)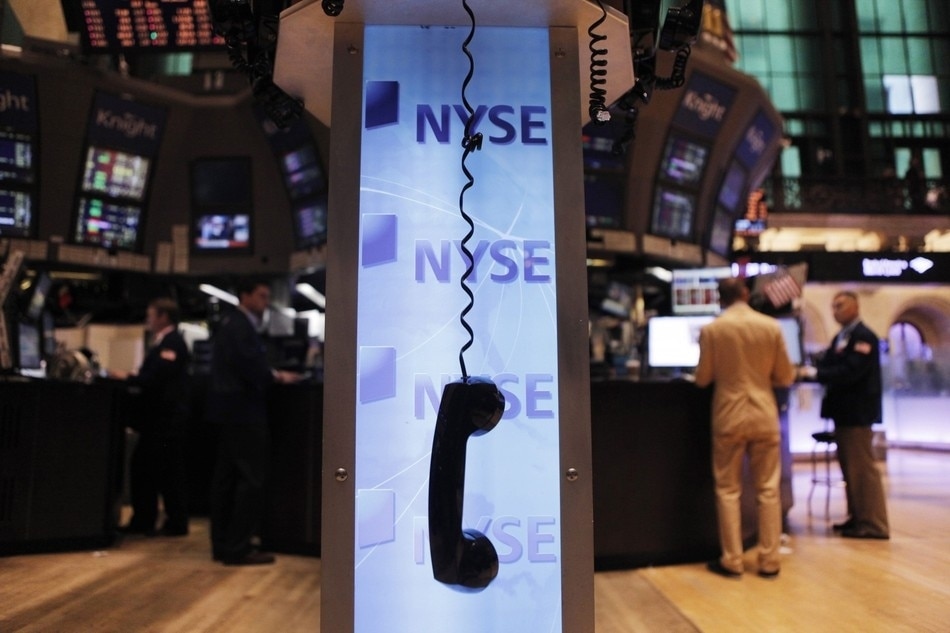 A phone hangs off the hook on Wall Street.
(Reuters / LUCAS JACKSON)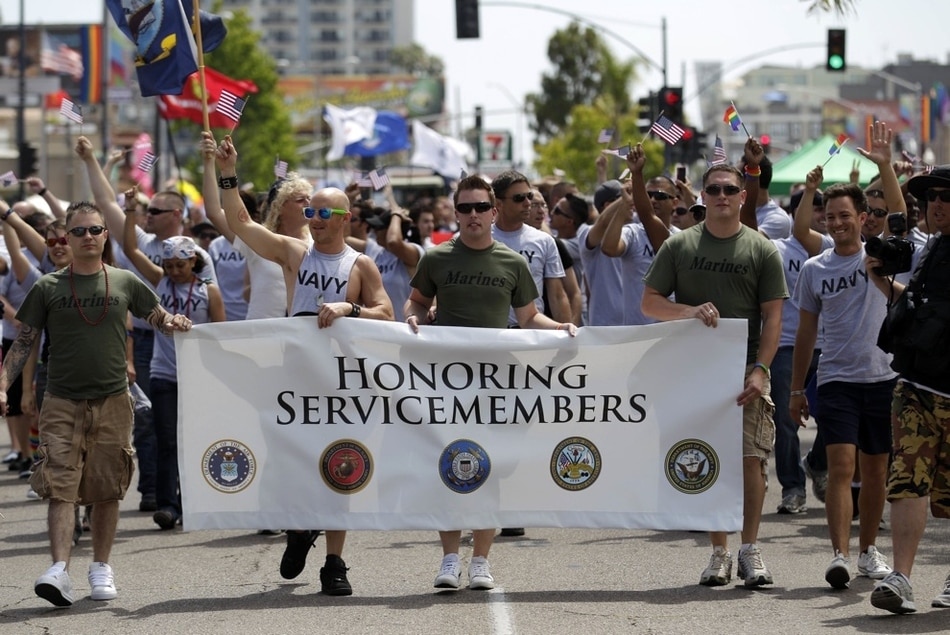 US gay service members march in a gay pride parade for the first time ever.
(Getty Images / Sandy Huffaker)
A woman hangs onto a street sign in chest deep water along the flooded streets in Rangsit on the outskirts of Bangkok on October 24.
(Getty Images / Paula Bronstein)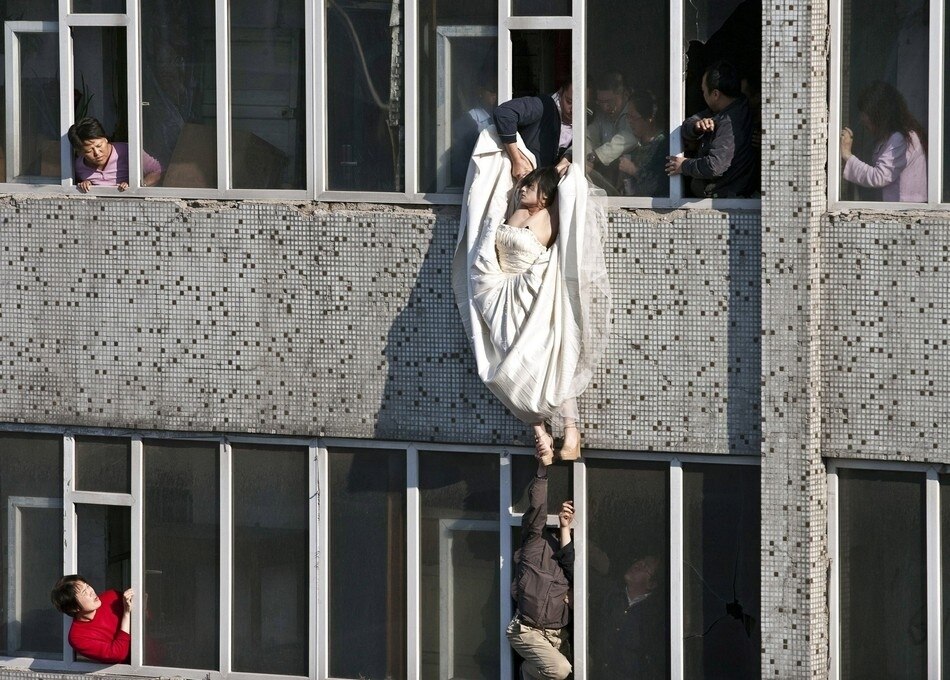 A distressed bride attempts suicide in China after her fiance abruptly called off their marriage. Still in her wedding gown, she tried to kill herself by jumping out of a window of a seventh floor building. Right as she jumped, a man managed to catch and save her. (Reuters / CHINA DAILY)
A U.S. Army soldier takes five with an Afghan boy during a patrol in Pul-e Alam, a town in Logar province, eastern Afghanistan. (Reuters / Umit Bektas)